Report Roads and Pavement issues to Clarence HERE You have the option to Register with City of Edinburgh Council if you require feedback and a reference number. If you pass on the Reference Number to the Community Council we will follow up on it to ensure the matter is dealt with.
You can also email: roads@colintoncc.org.uk Find information on Roadworks and travel disruption HERE (this section is under development) We also have linked with the Edintravel Map HERE
Gritting routes and grit bin locations can be found HERE
---
This latest information from Cllr Rust:
Thank you for your correspondence requesting an update on the Site Investigation . I can advise you that a desktop study has been completed; it identified that Woodhall Road presents some specific challenges because of its differing characteristics and overall length of some 2.63kms. Consequently, it has three designations in terms of Edinburgh Street Design Guidance – the section from Bridge Road to Bonaly Road is termed as a Retail/High Street, Secondary, the section from Bonaly Road to a point west of the City Bypass is termed as a Low Density Residential Street, Secondary and the section from there westwards from the Bypass to its conclusion is termed as a Rural Road/No Frontage Street, Secondary. Therefore, it currently has a mix of 20mph roundels on rural sections and 20mph repeater road signs elsewhere to manage vehicle speeds. The developing plan is to introduce more roundels to support the road signs and introduce locations for Vehicle Activated Speed Signs, to provide consistency along Woodhall Road.
SHIFT Programme for everyday cycling -cycling UK's new programme in Scotland to get communities cycling more and helping people use bikes for their everyday journeys.
With funding up to £800 Shift are working to support communities to enable people to make that switch from cars to bikes.
There are all kinds of possibilities for how to use the funding in your community. Follow the links below for information.
Gordon Webber
Development Officer for Shift (Falkirk, East Lothian, Midlothian, West Lothian and Edinburgh)
Cycling UK
Mobile: 07919 145476
Email: This email address is being protected from spambots. You need JavaScript enabled to view it.
Web: www.cyclinguk.org
CEC draft safety proposals for Bridge Road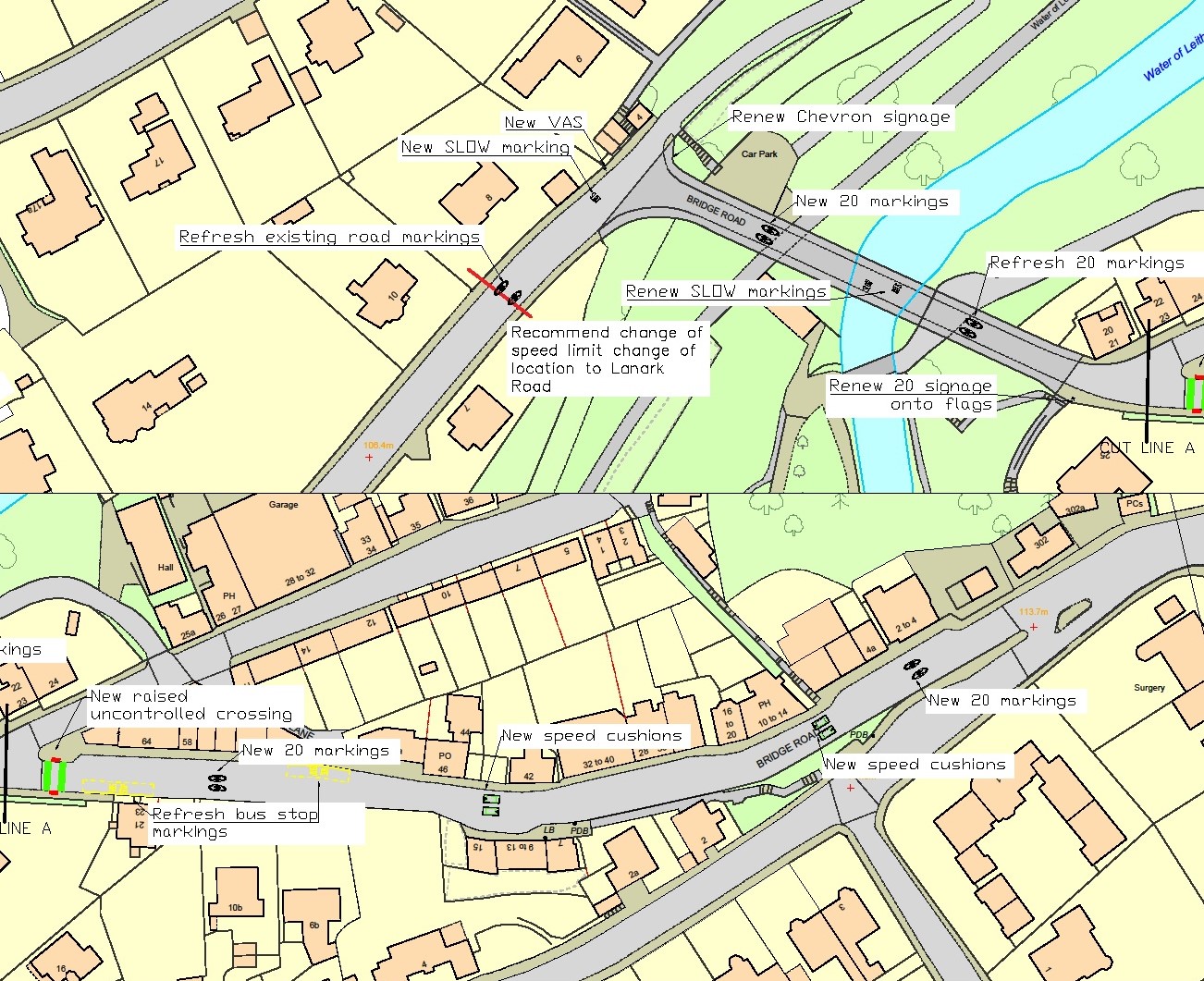 1: Pedestrian Crossing at Spylaw St Junction
CEC propose a pavement level uncontrolled crossing from the Telephone Box to the Bus Stop at position A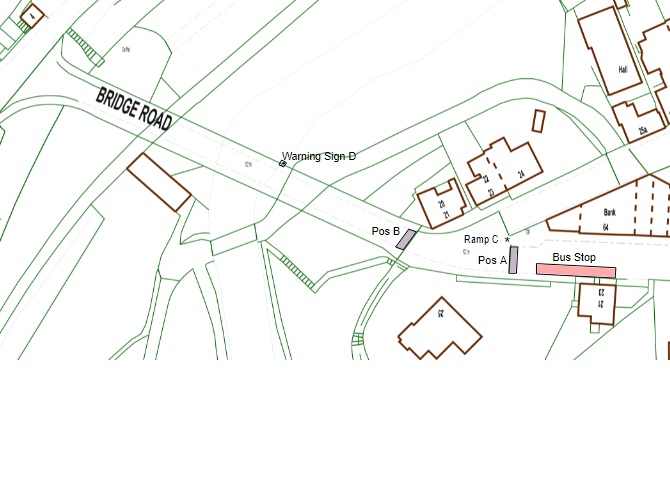 ColCC's strong view is the crossing should be at the start of the bridge - position B - immediately next to the existing railings, protecting the corner of Spylaw St. This would:-
1:Physically slow West to East traffic before the blind junction.
2: Improve the safety of vehicles emerging from Spylaw St (especially if turning right).
3: Make it fully visible to traffic travelling in either direction, and so safer for pedestrians.
4: Make the crossing significantly shorter.
5: Continue the line of the pedestrian route from Woodhall Rd down the Broad Steps to the North side of Spylaw St, giving safer access to Spylaw Park, the Scout Hut (for up to 170 children a week), the Spylaw pub, Waddell's Garage, Colinton Parish Church and its Halls.
6: Protect pedestrians crossing the top of Spylaw St on their way to Colinton Shops from unseen traffic turning into Spylaw St from the bridge.
7: Allow wheelchair access to the raised crossing in Position B. Though longer than at Position A, the dropped kerb near the telephone box can be levelled and redesigned. This route also allows wheelchair access to the village from Gillespie Rd.
---
2: Position and Type of VAS – Vehicle Activated Speed Sign
CEC's proposed VAS on the corner before the bridge is too late to warn drivers coming from Gillespie Rd to slow down to 20mph or to note the sharp bend there; and too early to protect the new crossing at Spylaw St from W-E traffic speeding up to cross the bridge.
ColCC's strong preference is a VAS that flashes actual speed in bright red or amber if over 20mph and a "thank you" with green numbers when below the limit.
We believe a VAS two thirds of the way across the bridge would give enough warning to slow down to 20mph before the new crossing.
The VAS could be mounted on the working lamppost two thirds of the way across the N side of the bridge which can provide an electricity supply without taking up pavement space.

---
3: Sign Warning of the Blind Bend, Concealed Road Junction and New Crossing

The present warning sign on the bridge is a standard, quite small sign for a bend with a junction (direction of bend actually left to right) but no indication that road junction is concealed. Both are mounted quite high on a lamppost some distance from the junction.
We suggest a CONCEALED ROAD JUNCTION sign alongside SLOW road markings on the bridge road surface. A larger sign should be considered so that all road users at different viewing heights can see it clearly.
We were told that a new crossing sign in both directions was not possible with an uncontrolled raised crossing. Instead the "dragon's teeth" painted on the sloping edges of the crossing will act as a warning.
Paint fades in time: ColCC would prefer signs with a RAISED CROSSING warning.

---
4: New and Renewed Road Markings and 20 MPH Signage
ColCC support the new and refreshed SLOW and 20 mph white and yellow road markings on the Draft Plan. With the volume of heavy traffic using Bridge Rd it is important these are refreshed regularly.
---
5: New Speed Cushions
We are unclear whether these are associated with the proposed new crossing or the existing pelican crossing. Given that the new crossing would be raised and the approach to it adequately covered with road signs and markings, we are unsure about the need for speed cushions adjacent to the post office.
ColCC is concerned about the chicane in Bridge Rd caused by the narrowing of the usable roadway by a stone wall on one side and two parking places on the other. Only smaller cars can generally pass in opposite directions when the parking spaces are occupied. A ColCC proposal to swap the bus stop with these spaces was rejected by the Bus Stop Working Party. We firmly believe that decision was too focused on the bus stop alone. A copy of our proposal will be sent to Road Safety.
Speed reducing measures adjacent to the Colinton Inn would help protect the existing pelican crossing as traffic tends to speed up downhill on Bridge Rd. Square cushions can be driven over at speed by drivers of large cars, vans and lorries with wide wheelbases. A full width speed ramp would be more effective. If that is unsuitable as Bridge Rd is a route for "blue light" vehicles, ColCC question the benefit of cushions which unfairly affect drivers of small and medium sized cars but not more dangerous larger vehicles.
---
6: Gillespie Rd Speed Limit and Road Markings /Signage
The Draft Plan proposes extension of the 20mph limit from the foot of Gillespie Rd to Lanark Rd. ColCC have had no requests from local residents for a speed limit reduction along this relatively long stretch.
However, we are concerned this might reduce the impact of the present 20mph signage and road markings in slowing W-E vehicles before the sharp bend at the foot of Gillespie Rd. ColCC suggest it is more important to protect this dangerous corner - already within the 20mph zone.
We welcome proposed new SLOW road markings near this bend and request improved advance warning signage for this bend. Damage to bollards protecting the N pavement of the bridge at the bend shows that drivers taking the corner too fast have collided with them.
After more than three years of planning and consultation the City Mobility Plan was formally approved at the Council's Transport and Environment Committee on 19 February.
CEC's Spatial Policy Team are now working to deliver the policy measures in the Plan, with many actions being delivered through more detailed actions plans such as the Active Travel Action Plan and the Road Safety Plan. The development of these action plans will bring further opportunities for dialogue as they progress.
A copy of the final City Mobility Plan is here. It is a lengthy document but an Executive Summary of some 10 pages is included.