UPDATE ON THE BRIDGE ROAD CO-OP
Latest news is that the internal fit-out work has been completed and the Co-op takes over on Monday 23rd April to get ready for an estimated date of opening of 3rd May 2018.
Tea in the Park
Saturday 5th May 2:30 - 4pm The Shed, Spylaw Public Park
That Swing Thing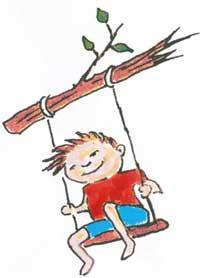 The Swing Cafe at Colinton Parish Church is a volunteer-run community cafe in the heart of Colinton, which is open Monday to Friday, from 10am to 2pm. Located in Dell Road, Edinburgh, EH13 0JR, they serve teas, coffees, home baking and light lunches. All are welcome, children included.
If you'd like more details you can call on 0131 441 2232, or visit www.colinton-parish.com/the-swing-cafe.html.
Did You Know....?
You have two ways to contact our local Police: by ringing 101; or 999. So which to use when?
We asked our Community Police Office PC Graeme Howie and he said:
The Police are always keen to prevent crime, so if you see anything that looks to you like it might result in an incident, you should call 101- even if nothing has happened...yet. Be aware, this is a busy line. Keep trying!
If an incident is happening, then call 999 for a more immediate response.
Did You Also Know...?
The No 10 Bus Service in Bonaly is a "Hail and Ride" service. This means that while there is no specific Bus Stop in Bonaly up to the end of Bonaly Avenue, if you see the bus approaching and want to get on, you can put out your hand to stop it and simply "Hail and Ride".
The monthly Police Reports are now available HERE