NEWS FLASH - Contractors for Scottish Gas networks estimate Bridge Road may only be closed for 10 days.

For Bus service changes see: https://www.lothianbuses.com/live-travel-info/roadworks-and-diversions/

Mind the Gap!
What should we do about the chicane in Bridge Road outside the Pharmacy?
Local Consultation
Colinton Community Councillors are concerned about the effects of the chicane caused in Bridge Road by the two parking spaces outside the Pharmacy. The remaining road is narrow, barely sufficient for two cars to pass- though many try. As a result, there are several minor accidents per year removing wing mirrors and/or scrapes and dents. A bus has had a minor collision with a car parked in one of these bays. Buses often do not or cannot pull into the bus stop because of the presence of parked vehicles. Heavy vehicles coming downhill frequently have to brake sharply. Traffic is regularly queued at this point. Unsurprisingly, we have also had local complaints about the narrowness of the road when vehicles are parked here.
But...it is important that there are adequate parking spaces near the Pharmacy and Post Office, particularly for use by elderly or disabled patients; and overall parking availability is important to our local shops and the life of the village.
Colinton CC's position is that these parking spaces compromise road safety and should be repositioned to two other spaces close by, so that safety is improved and the total amenity and the number of parking spaces in Colinton Village is not reduced.
What do you think? Have a look at our proposals and our "before and after" diagrams below in the "READ MORE" section and give us your views to: This email address is being protected from spambots. You need JavaScript enabled to view it..
Alternatively, you can also answer our short questionnaire HERE.

Pentlands Book Festival is 17 events from Sunday 13th October to Saturday 30th November Colinton, Currie, Balerno and Juniper Green. Organised by and for the community, theFestival brings an eclectic mix of events with literally something for everyone.From our acclaimed Scots Makar Jackie Kay to the comedy and murderousthoughts of Denzil Meyrick and Craig Robertson.The popular Scientific Supper and LocalAuthors' Event areback, and we'vevisits to the Schoolof Scottish Studiescelebrating Hamish Henderson'scentenary and anhistorical walkalong the Balerno Branch line withmodel railway displayand exhibition.We've two workshops -one on writing and oneon book illustration.Look at the website for full information and it's all free! To download the Poster CLICK HERE or on the image
A full programme is published on our website www.pentlandsbookfestival.org in the meantime do "like" us on Facebook and/or keep an eye and in Currie and Colinton libraries for further details.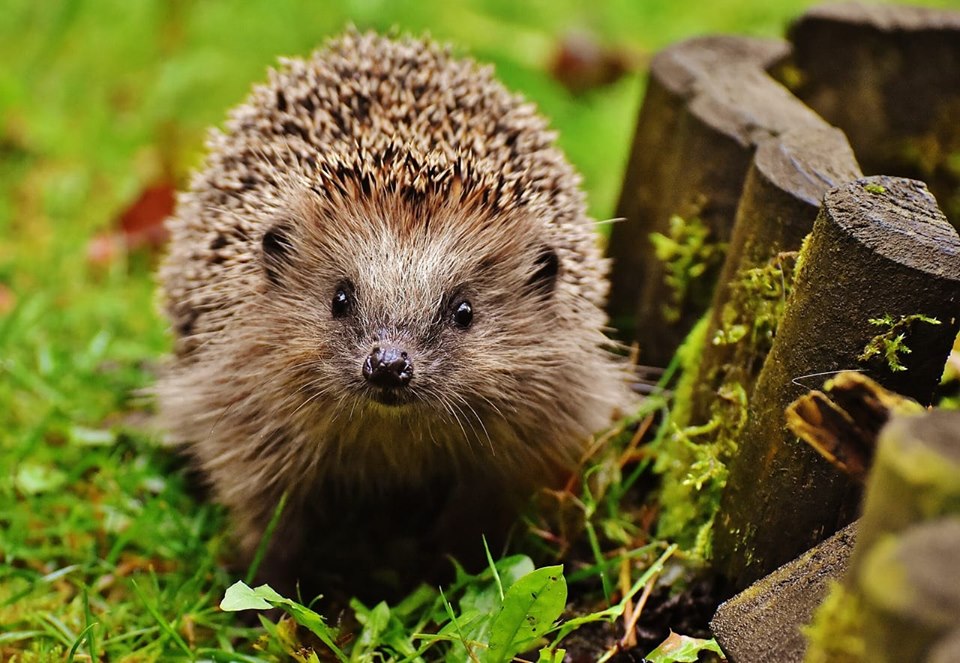 Did you know October is when hedgehogs start to hibernate? Here's some top tips on what we can to do to look after our little friends over the winter!Hedgehogs need to store the necessary body fat to go into hibernation. They will be out foraging for food such as earthworms, beetles, slugs, snails, insects, fruit and carrion. To help, you can set up a little feeding station with cat food/biscuits (not fish based) and set up a couple of nesting boxes in the garden. Avoid giving milk as this can cause diarrhoea. Fresh water in a shallow bowl is perfect for them.
Starting on 12th October Scottish Gas Networks and Kier, their contractor with commence work on a major gas main renewal project starting with a full closure of Bridge Road. UPDATE - Closure may only be for 10 days. The full programme with not finish until May 2020 culminating at Dreghorn Link. Details of the individual phases are indicated in a presentation. Click on the images to see the presentation.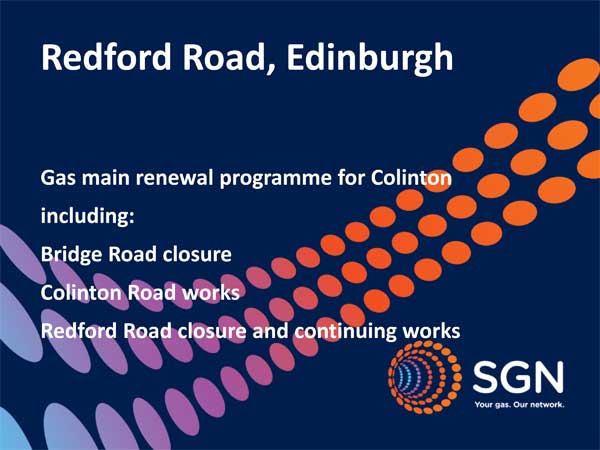 Open Flu Clinic Vaccination dates
2019 FLU CLINIC DATES
COLINTON SURGERY (ADULTS 12pm to 2pm)
| | | |
| --- | --- | --- |
| Date | | Surname |
| Tuesday | 29th October | Catchup Clinic (any surname) |
| Thursday | 31st October | Catchup Clinic (any surname) |
These clinics are for:
All patients over 65 years of age on 31/3/20.
Any patient under 65 who is in an at risk clinical group. eg chronic respiratory, heart, kidney, liver or neurological disease, asplenic/spleen dysfunction; reduced immunity due to disease or treatment; diabetes and asthma (only if on steroid inhalers), with a BMI greater than 40. Also if pregnant or an unpaid carer. (For specific details of eligibility if required contact the surgery).
CHILDREN. Clinics for all children 2-5 not at school and for children 12-18 in clinical at risk categories will take place between 2 and 5pm on Fri 15 and Fri 22 Nov.
These clinics are for:
3. All children between 2 and 5 (born between 2/9/2014 and 1/9/2017) who are not yet at school
4. Any child 6 months – 2 or 12-18 who is in an at risk clinical group. eg chronic respiratory, heart, kidney, liver or neurological disease, asplenic/spleen dysfunction; reduced immunity due to disease or treatment; diabetes and asthma (only if on steroid inhalers), with a BMI greater than 40, or an unpaid carer.
More information on the Colinton Surgery website
BBC Scotland's political discussion programme, Debate Night is travelling around Scotland again. To apply to be part of the audience. Go to: http://bbc.co.uk/debatenight and click "join the Debate Night audience"
Dates for this event are:
Edinburgh Wednesday 18th September
Edinburgh Wednesday 25th September
Greenock Wednesday 2nd October
Ayrshire Wednesday 9th October
Edinburgh Wednesday 16th October
Stirling Wednesday 23rd October
Aberdeen Wednesday 30th October
Edinburgh Wednesday 6th November
The next meeting of Colinton Community Council will be on Tuesday 12th November 2019 at 7:30pm in the Lounge (formely the Red Room) at Colinton Bowling Club, 49a Redford Road. The Agenda, Minutes of the October meeting and papers for the November meeting will be available shortly before the meeting.
Dates for the rest of the year are on the Minutes page.
We have prepared some information on Japanese Knotweed for private owners of property. Click this link to read it.
The City of Edinburgh Council have an invasive weeds team to deal with both Japanese Knotweed and Giant Hogweed on Council owned land. For further information follow the links below.
It has been suggested that website visitors might find the following links to local online publications helpful. These are the Colinton Newsletter and Dell Directory
Other links to relevant websites are in our LINKS page