The SCT My Place Awards celebrate community-led built environment projects that have transformed their locality. The Awards honour projects that have excelled in terms of design and community involvement/impact.
Previous local Award winners include the Duncan Campbell of Colinton Community Conservation Trust.
Winners of the My Place Awards are honoured at a reception at Glasgow's The Lighthouse and have a short film commissioned about their project. Winners and finalists are also featured in an exhibition at The Lighthouse. The short film about Bellsbank, the 2019 My Place Award winner, reached over 16,600 people on Facebook and the My Place exhibition at The Lighthouse hosted over 12,300 visitors and built environment stakeholders!

Copyright Donald MacLeod
HOW TO ENTER….
Local people can nominate any project they think is special by tagging SCT on social media @scotcivictrust; or by answering a few questions here.
Or you can call at 0141 221 1466 for a brief chat. The SCT team will then follow up with the nominated projects.
Community groups can also directly apply through the My Place website.
MORE INFORMATION.... myplacescotland.org.uk.
ANY QUESTIONS…. This email address is being protected from spambots. You need JavaScript enabled to view it..
Last year, a landmark report by the United Nations warned that, unless urgent action is taken, the opportunity to avoid the worst effects of climate change will be missed.
The Climate Change Plan Scotland 2018 set out the continuing actions of Scottish Government to ensure Scotland meets the climate challenge. Following on from this, Scotland became the first country to declare a climate emergency in early 2019 and the Climate Change Bill 2019 set a challenging national target for Scotland to be Carbon Neutral by 2045.
The City of Edinburgh Council recognises the vital role of local government in addressing climate change and in May formally declared a climate emergency and committed to becoming a carbon-neutral city by 2030.
This consultation can be completed at https://consultationhub.edinburgh.gov.uk/ce/edinburghtalksclimate/
In October 2019 the City's Transport and Environment Committee recently examined a report on this from a London perspective.
City of Edinburgh Council is also proposing that the City achieve Net Zero Carbon by 2030-7.
Scottish Gas Networks and Kier, their contractor have completed Phase 1 & 1a and Bridge Road will open on Sunday 3rd November. The full programme with not finish until May 2020 culminating at Dreghorn Link. Details of the individual phases are indicated in a presentation. Click on the images to see the presentation.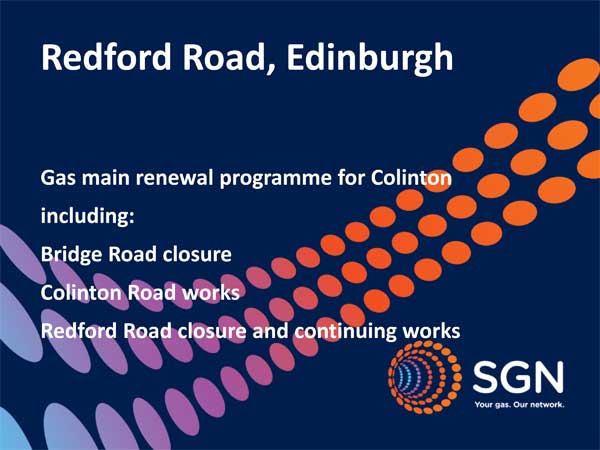 We have prepared some information on Japanese Knotweed for private owners of property. Click this link to read it.
The City of Edinburgh Council have an invasive weeds team to deal with both Japanese Knotweed and Giant Hogweed on Council owned land. For further information follow the links below.
It has been suggested that website visitors might find the following links to local online publications helpful. These are the Colinton Newsletter and Dell Directory
Other links to relevant websites are in our LINKS page