ColCC wants your views...
At our Community Council meeting on 10 March, Police Scotland gave a presentation on their pilot Community Speed Watch Scheme. Not many members of the public were present and the Community Council's views on the Scheme were split, so we have decided to seek the community's views directly. We'd be grateful therefore for your answers to the questions listed below.

Briefly, this scheme is designed to allow volunteers from the community to officially monitor and report to the Police the details of speeding vehicles in specific areas where speeding is of concern to the community. Despite assurances at our meeting that volunteers could be drawn from the whole community, the paperwork clearly looks to Community Councils to administer the proposed system and for its members to be actively involved, including becoming volunteers.

The idea is that ColCC should find and manage suitably vetted and trained local volunteers to check vehicle speeds at agreed locations. The team would use Police equipment including warning sign and radar gun, recording and reporting offenders, who would then receive a warning letter from the Police. To date 7 Community Councils have chosen to proceed with the Scheme: we have 46 in Edinburgh.
A minority of ColCC members were in favour, seeing this as a good way to support the Police in dealing with the widely acknowledged issue of speeding in Colinton. Other members did not support the Scheme, believing this to be a Police responsibility, and not appropriate for Community Councils; that as Col CC's aim is to represent the views of the community, or significant groups within it - not to control its behaviour- this activity could damage our representative role; and finally that volunteers could be seen as "vigilantes"; and personal safety might be an issue if volunteers became targets for "radar-gun rage".
ColCC Police Community Speed Watch Questionnaire
Do you support/not support the Police Community Speed Watch Scheme? Why?
Are you happy /not happy that this should be operated by Colinton Community Council? Why?
Would you be prepared to be a Police Community Speed Watch Volunteer?
If you replied "Yes" to Q3, can we retain your name and contact details for use in this Scheme, if it goes ahead in Colinton
Responses please to: This email address is being protected from spambots. You need JavaScript enabled to view it..
From Monday 23rd March blue box collections for glass will be suspended. You can find out what to do with your glass, as well as more updates on changes to bin collections here https://bit.ly/2UrhpUD. We really appreciate your patience & understanding about this.
FUTURE MEETINGS:
DUE TO THE CORONA VIRUS CRISIS, FUTURE MEETINGS IN PUBLIC OF COLINTON COMMUNITY COUNCIL HAVE BEEN CANCELLED.
THE COMMUNITY COUNCIL WILL CONDUCT ITS BUSINESS ONLINE AND MINUTES AND PAPERS WILL BE PUBLISHED ON OUR WEBSITE.
PROPOSED WORKS ALONG WATER OF LEITH WALKWAY AT COLINTON
Representation to CEC Planning Department Planning Application No. 19/05805/FUL
from Colinton Community Council (ColCC) as a Statutory Consultee
Scottish Water (SW) is currently planning to undertake major works on a sewage pipe which runs along the Water of Leith, which includes areas which impact on Colinton Village. This work is scheduled to start in late February and may take up to a year to complete. While fully supportive of this essential work, Colinton Community Council (ColCC) is concerned to ensure it is carried out in a way which minimises the impact on amenity in Colinton and specifically, access to Spylaw Park, the Colinton Tunnel and the Water of Leith Walkway.
The Community Council is also very concerned at the woefully inadequate public consultation which preceded the submission of SW's Planning Application.
If successful this Planning Application will see the creation of a work site which will take up all of the old Station Car Park at Gillespie Road, which will have significant impact on general amenity and in particular to access from Bridge Road to Spylaw Park, car parking in Spylaw Park, the Colinton Tunnel and walks along the Water of Leith.
The City Mobility Plan consultation was launched at the end of January. The City of Edinburgh Council has an ambition to be Carbon neutral and there is a need to re-think the way we move people and goods in and around Edinburgh. Your views are sought.
The consultation can be accessed at: https://consultationhub.edinburgh.gov.uk/sfc/city-mobility-plan/
City of Edinburgh is preparing a new Local Development Plan for Edinburgh called City Plan 2030. This will set out policies and proposals for development in Edinburgh between 2020 and 2030. The consultation can be found at: https://www.edinburgh.gov.uk/cityplan2030 Your views are sought on the Choices for CityPlan2030.
Last year, a landmark report by the United Nations warned that, unless urgent action is taken, the opportunity to avoid the worst effects of climate change will be missed.
The Climate Change Plan Scotland 2018 set out the continuing actions of Scottish Government to ensure Scotland meets the climate challenge. Following on from this, Scotland became the first country to declare a climate emergency in early 2019 and the Climate Change Bill 2019 set a challenging national target for Scotland to be Carbon Neutral by 2045.
The City of Edinburgh Council recognises the vital role of local government in addressing climate change and in May formally declared a climate emergency and committed to becoming a carbon-neutral city by 2030.
This consultation can be completed at https://consultationhub.edinburgh.gov.uk/ce/edinburghtalksclimate/
In October 2019 the City's Transport and Environment Committee recently examined a report on this from a London perspective.
City of Edinburgh Council is also proposing that the City achieve Net Zero Carbon by 2030-7.
Scottish Gas Networks and Kier, their contractor have completed Phase 1 & 1a and Bridge Road will open on Sunday 3rd November. The full programme with not finish until May 2020 culminating at Dreghorn Link. Details of the individual phases are indicated in a presentation. Click on the images to see the presentation.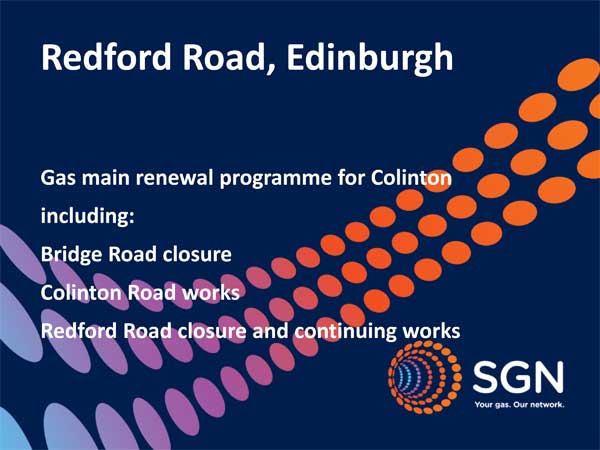 It has been suggested that website visitors might find the following links to local online publications helpful. These are the Colinton Newsletter and Dell Directory
Other links to relevant websites are in our LINKS page