'Local policing is central to Police Scotland and we ask that you share your views by completing our survey accessible via https://consult.scotland.police.uk/surveys/your-police/
We would like to know what issues you think we should prioritise, nationally and in your local area, as well as the best methods for communicating with you.
Your views are important to us and we are committed to using this information to shape our policing priorities – both locally in your area and nationally. We will do this through analysing your feedback and looking at data from a number of other important sources such as local and national crime trends.
What you tell us will also influence how we communicate and engage with you and your community.
For further information on policing in your local area please visit our website: https://www.scotland.police.uk/your-community/
Your personal information
All personal information will be anonymised and you won't be identified through the information you provide. At the end of the survey, we ask for personal details, such as age and gender, to ensure to ensure we receive a comprehensive range of viewpoints. We want to listen and understand the views and opinions of diverse communities to ensure our police priorities and focus represent the different people we serve.
By participating you will agree to Police Scotland using your anonymised data for analysis and reporting to contribute to
Your local police plan
Police Scotland's long-term strategy'

The Colinton & Merchiston Choir presents "Music for Christmas" on Sunday 15 December at 7.30pm. The venue is the magnificent Memorial Hall at Merchiston Castle School, 294 Colinton Road. The performance includes Bach's "Sleepers, Wake!", "Fantasia on Christmas Carols" by Vaughan Williams, and a selection of popular carols. Admission is free, with tea and coffee provided after the concert. Please join us for an evening of uplifting Christmas music. All welcome! For more information – or to enquire about becoming a member of the choir - visit: www.colintonchoir.org
Scottish Gas Networks and Kier, their contractor have completed Phase 1 & 1a and Bridge Road will open on Sunday 3rd November. The full programme with not finish until May 2020 culminating at Dreghorn Link. Details of the individual phases are indicated in a presentation. Click on the images to see the presentation.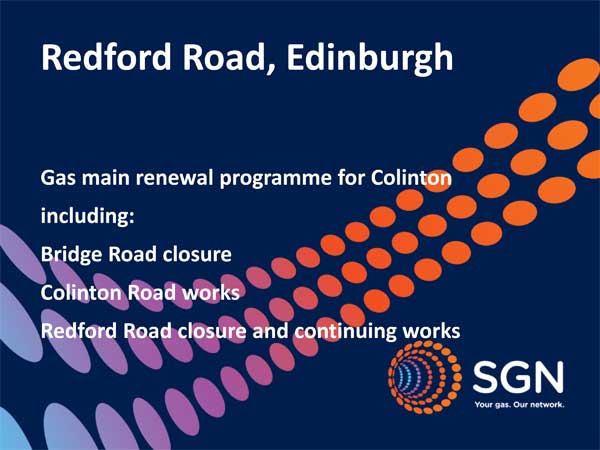 We have prepared some information on Japanese Knotweed for private owners of property. Click this link to read it.
The City of Edinburgh Council have an invasive weeds team to deal with both Japanese Knotweed and Giant Hogweed on Council owned land. For further information follow the links below.
It has been suggested that website visitors might find the following links to local online publications helpful. These are the Colinton Newsletter and Dell Directory
Other links to relevant websites are in our LINKS page