Dell Road path closure:
This path is closed due to a landslip and the Council have commissioned Geotechnical Consultants SWECO to monitor, survey and advise on solutions for stabilisation. The design has been finalised and the tender package is being prepared. The tender process takes around three weeks.
Following a house refurbishment project due to start in June on Dell's Road until end of September, it is anticipated for the work to take place in Autumn/winter 2022, depending on the winning contractor's availability. Once on site, we expect works to take 4-6 weeks to complete.
Dell's 2 bridges replacement:
The Council have an agreement in principle to the designs and our consultant engineers are developing a full specification of works to allow both projects to be taken to tender. These details are expected within the next couple of months and thereafter the works will be advertised and a competitive tendering exercise progressed.
1. The path at the end of Dell Road on the Water of Leith Walkway remains closed due to a landslip and the Council has commissioned Geotechnical Consultants to monitor, survey and advise on solutions for stabilisation. Unfortunately, another tree came down recently which necessitated a further topographic survey, which took place on 21st February 2022. The revised design is anticipated and the works will be tendered. The tender process takes 3 weeks, so it will be the end of March before the work can begin on site. That obviously depends on contractor availability and once on-site work can take 4 to 6 weeks to complete.
With thanks to Cllr Rust
Colinton Dell Bridges Update
The Council has stated that due to staff shortages in the Bridges and Structures team, they have been unable to provide the necessary professional expertise to develop designs and contract specifications for the closed bridges in Colinton Dell.
They have, however, recently secured the use of their engineering framework consultant (Mott Macdonald) and (after a site meeting in November) received confirmation they will be able to produce designs by February 2022.
After the designs are assessed by the Council's engineers and an Agreement in Principle (AIP) given, the bridges will be procured in April/May with the intention of delivery by October 2022.
Colinton Dell Landslip Update
The Council's geotechnical consultant has completed all the necessary surveys and have put forward a design for the remedial work which will be required before the path can be reopened safely. The Council are now working on formalising an agreement with a local landowner as an aspect of the design requires for pins to be driven in the bed rock located behind their property boundary.
The Council's consultant is also preparing a bill of quantity for the work to go to tender. The Council will get a better idea of the timescale for the work to be undertaken once a successful contractor has been appointed.
With thanks to Cllr Arthur for this summary.
This is the report on the toilets which went to the recent CEC T&E Committee, where it was approved. Your Community Council continues to monitor this situation.
4.5 "Committee asked officers to engage with the local community in Colinton to understand if a community asset transfer (CAT) of Colinton's public toilets could be used as a vehicle for improving provision and, meanwhile, retain the Colinton Public Convenience throughout the process of local engagement and the development of any other alternative plans as part of the ongoing public conveniences strategy.
4.6 Officers met with community representatives and Councillors on 4 June 2021 to discuss the Colinton public conveniences. The community representatives indicated there was no local appetite for a CAT of these facilities at this time as they were already focussing on a CAT in Spylaw Park. On this basis, a further decision will now need to be made by Committee on whether to maintain the facility (outside of the plans for future provision) or close it.
4.7 It was acknowledged that more people are visiting the area either on their way to the Pentlands or to go to Colinton Tunnel, which has recently been highlighted as a tourist destination by Visit Scotland. To aid the decision making, it was agreed that the usage of the toilets would be monitored for 12 months and that this data, along with qualitative data, would be considered to provide a 'holistic' view on whether Colinton toilets fall into the future provision. Meanwhile the toilets would remain open and additional signage would be installed to promote them further to visitors to Colinton Tunnel."
CEC Parks and Greenspace Officer Craig Dunlop has written to Colinton Community Council as follows:
"For some time there has been a community desire to improve pedestrian access into and throughout Campbell Park. I have been working on proposals which would include a 1.8 tarmac footpath connecting Woodfield Avenue with Campbell Park Avenue and offering a link to the pavilion and play area, an additional 3 meter wide path from the Woodhall Road to play area would serve as both vehicle access for maintenance and pedestrian route for those entering from this entrance.
The 3m path is showing as blue and the 1.8 as yellow, I have avoided making a loop to the south side as this would impact on the cricket boundary.
If there are no objections I would like to obtain estimates and suggest this as a project for parks capital funding to be considered for this financial year."
The Community Council has supported this proposal in principle, but we are keen now to hear views from the community.
Many thanks for your comments- duly noted. The majority were in favour and the Community Council has welcomed this proposal in principle, reserving rights in future to comment on detailed proposals.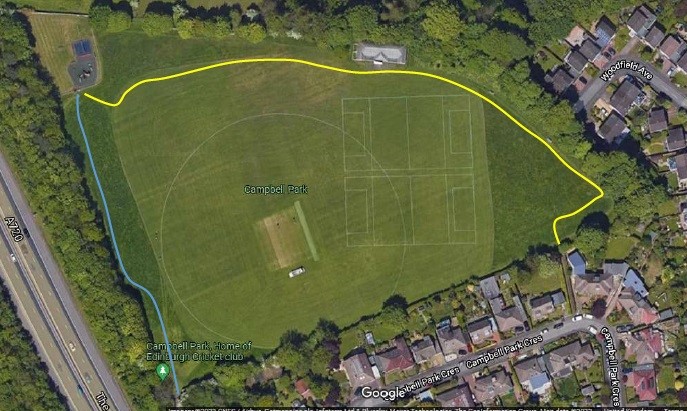 Here is an analysis of the EACC conference presentation given on 22nd April 2021
"It is an interesting comparison between Copenhagen and Edinburgh's journeys towards Carbon Neutrality."