There will be a litter pick on Sunday 12th May, gathering under the Bridge Road Bridge next to the parking area. This is in support of the Water of Leith Conservation Trust and starts at 1400 hours 'till around 1609 hours.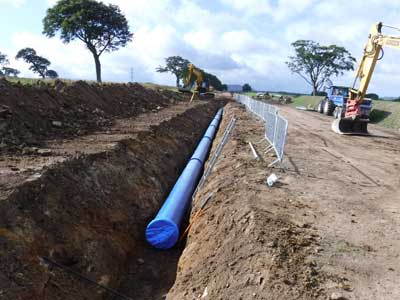 £20million project
A £20 million project to make the drinking water network in the city and beyond more resilient is more than a third complete.
Scottish Water has installed just over 4 km – out of total 12 km – of brand new mains in the southern part of the city which supplies much of Edinburgh and parts of West Lothian.
The investment will allow customers to be supplied from two different locations – Glencorse and Marchbank Water Treatment Works - making it less likely that they are left without water.
The extended network will also have the capacity to link to other existing and future water supplies across parts of the south of Scotland. It will ensure Scottish Water can provide its customers in Scotland's capital city, including a growing number of households and businesses, with fresh water around the clock.
Extra care
The network expansion across part of the Pentland Hills – some of it visible from the city bypass and the A702 near Hillend - has included working in areas where World War One training trenches were constructed. Work is also being carried out in part of the Swanston Conservation Area where any work taking place in April and July requires extra care and consideration due to lambing season and ground nesting birds.

There are a number of burns and streams which run nearby the planned route and all the work being carried out in these areas will take account of salmon spawning season, about which Scottish Water continues to liaise with SEPA.
Within the Pentland Hills Regional Park, Dreghorn Woods has been designated by Woodland Trust Scotland as a First World War Centenary Wood. The park must be kept open to the public at all times during construction and measures have been taken to allow the public continued access to the park.
Read more: A MORE RESILIENT WATER SUPPLY FOR EDINBURGH IS GETTING CLOSER!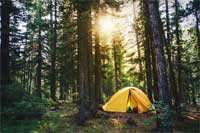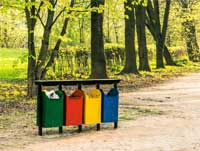 With signs of spring and hopes of summer, experienced camper Peter Byrd's Definitive Guide to Sustainable Camping https://professionalcamping.com/guides/sustainable-camping-definitive-guide) comes to us at a great time. Whether you are a daytime hill walker enjoying the Pentlands, an overnight camper or a serious wild country backpacker, Peter's "Leave No Trace" camping principles and his "Ten Essentials of Sustainable Camping" are an invaluable guide for all of us who want to enjoy and preserve our wonderful countryside.
The South West Locality has been looking at a better structure for the local Environment Walkabouts. This is where local community bodies get together and look at what potential environmental improvements might be considered. The proposal will remove "service" issues from the discussions which will be held twice* a year and concentrate on reviewing areas in the community where money might be better spent making an area more attractive.
Colinton Community Council wishes to work with the various constituted bodies in Colinton as well as community members to examine what we can do to make Colinton a better place.
All suggestions will be considered, so please get in touch.
* It is possible that this may only occur once a year unless suggestions come forward on areas to improve.
An update on the latest arrangements for garden waste collection have kindly been passed on by our Ward Councillors.
The process is as follows.
The new service starts from Monday 8 October 2018.
Permits and calendars will be posted to residents the week beginning 24 September.
Residents who have not signed up but use any of our kerbside or box collection services will also be sent a letter with information about the next registration window and a new calendar as they may have a change to their bin collection days.
Tiphereth customers who have signed up will continue to have weekly garden waste collections. Tiphereth will provide these residents with a year's supply of tags to attach to their garden waste bags.
The last free collection of garden waste will be on Friday 5 October. Residents who have not signed up for the service should check their current calendars for their last collection before this date. For some residents their last garden waste collection may be as early as 17 September.
The next registration window opens at 9am, 1 October and closes at 12pm, 16 October.
Residents who have not signed up are encouraged to compost their waste or take it to one of our recycling centres.
They can also book a special uplift for their garden waste for £35 for up to 28 bags of waste.