Sniffer dogs being used to help find leaking water mains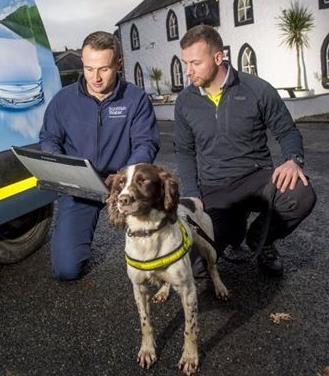 Sniffer dogs are being used to help find leaking water mains for the first time in Scotland in rural areas where the water does not always show on the surface.
Two spaniels, called Snipe and Denzel, have been trained by ex-military dog handlers to detect the smell of chlorine in treated water.
A trial programme in parts of Dumfries & Galloway and Ayrshire surveyed Scottish Water's trunk mains and searched for leaks enabling us to assess whether to use them on an ongoing basis.
During the trial, the dogs found leaks on a 24-inch steel main in the Dalmellington area and on a nine inch main near Lochmaben.
Since 2006, leakage has been reduced by over 50% using a number of modern technologies. However, we are always looking for new and innovative ways to do the job more effectively.
Scotland leads the way on innovation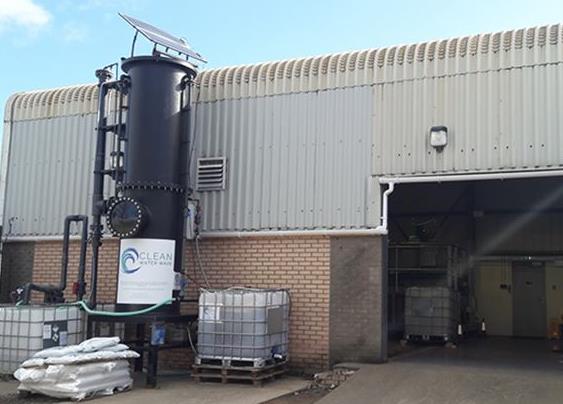 Two Scottish innovation centres and the world-renowned James Hutton Institute are at the forefront of an international drive to unlock innovation potential in the global water industry.

Experts have teamed up to lead and deliver the Water Test Network which allows innovative new technologies to be brought to market more quickly for the benefit of water users and consumers.

With support from The Scottish Government as part of the Hydro Nation Agenda, our commercial business Scottish Water Horizons have set up the country's first full-scale Development Centres in Bo'ness and Gorthleck near Inverness. These centres provide innovators with facilities to test and develop their processes and products under live conditions in a safe and dynamic environment which does not risk public health or safety.?

The first trial to take place via the new network started in February with Belgian company AcquaNovus, testing their technology to deal with waste water contaminated with organic pollutants such as leachates from landfill sites and other industrial operations.
Your Water Your Life Campaign is Tap of the Class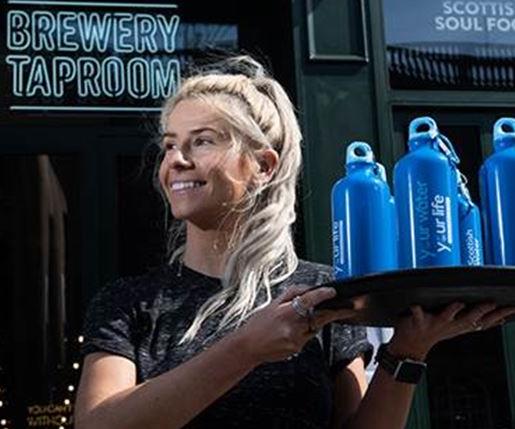 Our Your Water Your Life campaign is taking the country by storm with two thirds of Scots now joining the trend to carry a refillable water bottle.
Latest YouGov research shows almost two out of three people nationally (65 per cent) are now opting to carry a reusable bottle.
The campaign launched last summer and we've been busy installing a network of iconic blue Top up Taps across the country.
April marked the installation of our 10th tap, with 30 more planned in towns and cities over the next two years.
As sales of refillable bottles soar, Scots have tapped into the growing trend to stay hydrated on-the-go and care for the environment.
Edinburgh brewer Innis & Gunn, Glasgow's Buchanan Galleries and His Majesty's Theatre in Aberdeen are the latest businesses to back the campaign, pledging to offer free tap water top-ups.
Thousands of litres of fresh, clear and refreshing water have already been dispensed from the taps with Glasgow's Buchanan Street tap being the most popular.

Galafoot Wastewater Treatment Works hits green energy milestone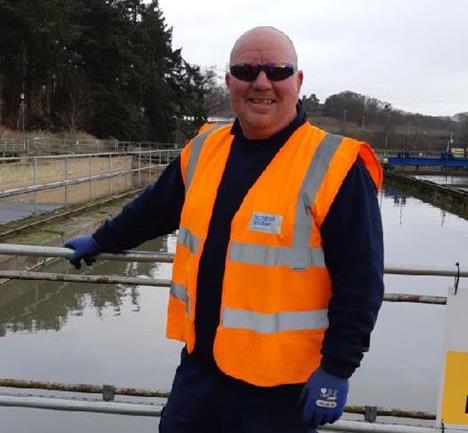 Galafoot Waste Water Treatment Plant in Galashiels now generates more energy than it uses.
The site generates the electricity from sewage sludge, the semi-solid by-product of wastewater treatment, using Combined Heat and Power (CHP).
On average, the Galashiels site, which serves a population equivalent of around 27,000, generates more than 18,000 kWh/week of renewable energy, which is enough to power 204 homes for a year.
Only two operators work at the site, which processes an average 150m3 of sludge every day. It also treats sludge from most other parts of the Borders, from Eyemouth in the east to Newcastleton in the west.
Brian Reavely, known as Fudge, has worked as an operator at Galafoot for 27 years and says one of his proudest achievements is seeing how the site has become as green as it can.
Midlothian schools poster campaign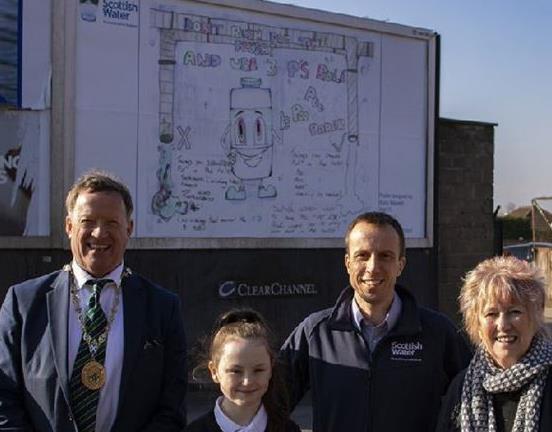 School children in Midlothian have designed posters to highlight the dangers of putting the wrong things down the loo – as part of a major drive to prevent future pollution in local water courses.
More than 200 youngsters entered a poster competition to encourage people to think twice about what they put into sewers, following pollution problems in Midlothian rivers and burns
The entries, designed by children from P4 to P7, all include educational messages from Scottish Water's 3Ps campaign. It urges people to put only pee, poo and (toilet) paper down the loo.
The overall winner, St Luke's Primary School pupil Ruby Maxwell, met Christine Grahame MSP and Midlothian Provost Peter Smaill in Newtongrange to be congratulated and see her winning artwork which has become a huge billboard poster.
New multimillion-pound sewer replacement completed in Methil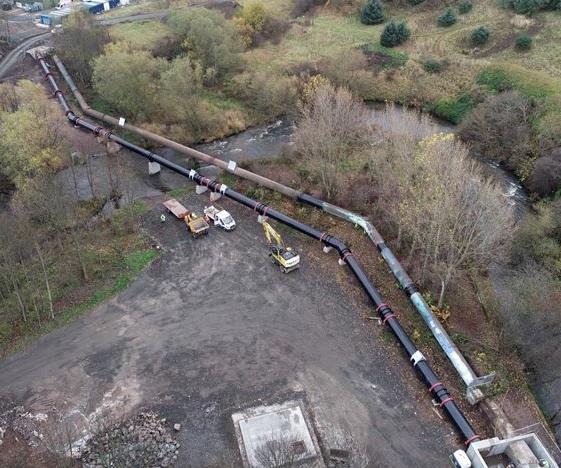 A new £4 million section of sewer to help protect the environment for the long-term in the River Leven has been completed.
The pipeline project, completed in March, replaces a 190 metre long, 1.4 metre diameter sewer which criss-crosses the River Leven.
The pipe goes into Levenmouth Waste Water Treatment Works which serves a quarter of a million people in Fife.
These aerial photographs show the new pipes hardwearing, hand painted, black finish sitting next to the old sewer.
The pipe couplings – the red metal clasps which hold the pipe together – were shipped to Scotland from Pennsylvania, USA. They were chosen for their ease and speed of installation taking a fifth of the time to securely install. The pipe itself has been custom made for this project and thanks to its coating, should last for the next 50 years.


Project Saves Rare Sparrows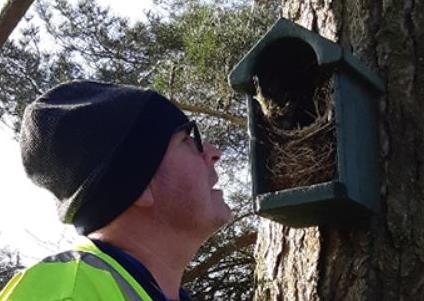 A project to help save the native Tree Sparrow with the help of work at Scottish Water sites across Dumfries and Galloway has got off to a flying start.
Working with RSPB Scotland, Scottish Water helped fund and host 21 bird boxes. Installed in time for the breeding season at sites believed to be ideal for breeding, the RSPB has now confirmed 15 of the boxes were used by nesting birds – six of which were Tree Sparrows.?
The Tree Sparrow is on the Red Data List of species on the Birds of Conservation Concern – meaning its status is 'highly threatened'.
Following the success of this conservation project, Scottish Water will be supporting the scheme by funding further boxes in 2019.
The bird boxes are installed at sites in Annan, Dalbeattie, Dalscon, Dumfries, Lochmaben, Lockerbie, Thornhill, and Troqueer.
Click here to find out more

Scottish Water

www.scottishwater.co.uk