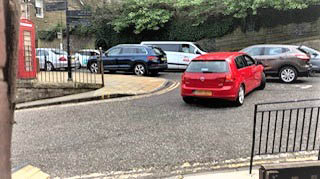 An on-site meeting has been scheduled between ColCC's Transport Convenor and Daisy Naryanan, the Head of Placemaking and Mobility at CEC, to discuss (and hopefully resolve) issues of outstanding local concern about Bridge Road's safety – items 3 and 4 on this list of our original concerns.:
Speeding on Bridge Rd itself (average of 30mph in both directions in a 20mph zone including eastwards round a blind corner)
Lack of a safe crossing for pedestrians from the phone box on the N side to the pavement on the S side of Bridge Rd leading to the westbound village bus stop and the "Broad Steps" up to Woodhall Rd.
Danger of collisions between vehicles emerging from Spylaw St in both directions but particularly turning right towards the bridge. We have lots of informal evidence of near misses and minor unreported collisions. A number of near misses have witnessed.
Danger to pedestrians and wheelchairs at the severely sloped pavement at the NE corner near the phone box where there have been several recent slips and falls with one person badly injured.
The Key Areas of Disagreement at May 2022 are detailed HERE
This meeting at senior level is very welcome, following several years of robust lobbying of the Council and a particularly frustrating time since May 2021 championing our responses to CEC's draft proposals. The ColCC Response of May 2021 can be read HERE
Let's hope local knowledge, expertise and experience count for something; we'll keep you posted.