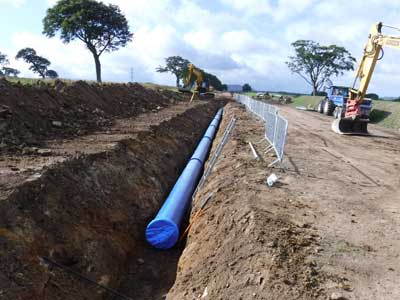 £20million project
A £20 million project to make the drinking water network in the city and beyond more resilient is more than a third complete.
Scottish Water has installed just over 4 km – out of total 12 km – of brand new mains in the southern part of the city which supplies much of Edinburgh and parts of West Lothian.
The investment will allow customers to be supplied from two different locations – Glencorse and Marchbank Water Treatment Works - making it less likely that they are left without water.
The extended network will also have the capacity to link to other existing and future water supplies across parts of the south of Scotland. It will ensure Scottish Water can provide its customers in Scotland's capital city, including a growing number of households and businesses, with fresh water around the clock.
Extra care
The network expansion across part of the Pentland Hills – some of it visible from the city bypass and the A702 near Hillend - has included working in areas where World War One training trenches were constructed. Work is also being carried out in part of the Swanston Conservation Area where any work taking place in April and July requires extra care and consideration due to lambing season and ground nesting birds.

There are a number of burns and streams which run nearby the planned route and all the work being carried out in these areas will take account of salmon spawning season, about which Scottish Water continues to liaise with SEPA.
Within the Pentland Hills Regional Park, Dreghorn Woods has been designated by Woodland Trust Scotland as a First World War Centenary Wood. The park must be kept open to the public at all times during construction and measures have been taken to allow the public continued access to the park.
Praise indeed!
Park users have praised Scottish Water and our Alliance Partner Caledonia Water Alliance (CWA) – which is carrying out the work - for the care and attention taken to keep access open in areas where pipes are being laid. Mrs Gillian Brydon, a local businesswoman, got in touch with Scottish Water to say she was "delighted" the route she walked with her dog remained open despite pipes being laid there.
Another Edinburgh resident, who owns horses in the Swanston area, also praised the delivery team for ensuring the temporary signs and notices put up in the area were secure and did not move or flap about, cregeating noises which could frighten horses.
The work includes single and twin pipes – all of which are bright blue and visible on areas of land across the area - being laid to connect Marchbank Water Treatment Works near Balerno and Glencorse Water Treatment Works, south of the city.
Completion dates and challenges
It is hoped the pipework will be completed by the end of summer after which the area will be reinstated, with the work due to be completed by the end of the year.
One of the biggest challenges for the team on the ground has been working under the High Voltage Powerlines which cross and follow much of the route of the pipeline. CWA arranged overhead cable posts along the working area and height restrictors to be fitted to machinery to minimise the risk of overhead cable strikes while construction works are underway.
Project Manager James Kerr, of CWA, said: "We are making good progress with pipe laying activities and are working closely with people who live, work or visit the areas where we are working and make every effort to cause as little disruption as possible.
"Many walkers in the area have said they are pleased the work has not restricted their activities due to the amount of crossing points we have put in alongside the pipeline."
Local liaison
Scottish Water has liaised extensively with landowners and businesses as well as a range of organisations including Pentland Hills Regional Park and Edinburgh City Council. One example is how the utility has worked with Bonaly Primary School to ensure disruption, including noise or heavy load traffic, is kept to a minimum during busy periods.
Scottish Water's Director of Capital Investment, Mark Dickson, said: "This major investment will make the drinking water supply in Scotland's capital and a number of areas nearby far more resilient.
"We have been mindful of the number of people impacted by this – including landowners, local businesses and walkers – and thank everyone for their patience and understanding while work is carried out."
Additional information
More than 170,000 people – residents and businesses – in Edinburgh and West Lothian will benefit from this investment in their drinking water network.
Scottish Water is committed to minimising disruption and will keep residents, businesses, landowners and land users – including hill walkers using the Pentland Hills – notified of where the work is being carried out and any diversions in place.
This project is over and above a £29.5 million investment programme of works by Scottish Water to improve Edinburgh's water and wastewater systems.
Marchbank Water Treatment Works takes water from Megget Reservoir – 28 miles away in the Borders – and makes it safe for our customers to use. It uses an ultramodern Dissolved Air Flotation (DAF) process which allows raw water to be treated to a much better standard.
Glencorse Water Treatment Works supplies water to up to 450,000 customers across Edinburgh and parts of Midlothian, with the capacity to provide up to 175 million litres of water every day.