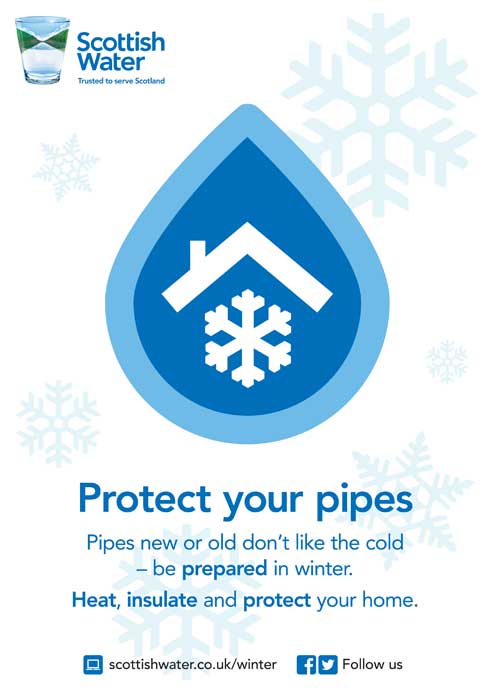 Follow our winter code. Heat, insulate and protect
Heat
Warmth offers the best protectionagainst frozen pipes, so when temperatures are low, leave your heating on a low setting, or set it to come on a couple of times a day.
Insulate
Pipes don't like the cold - whether they are outdoor or indoor, metal or plastic,new or old. Making sure pipes and watertanks are properly insulated is one of the simplest, and cheapest, things you can do to help protect your property from the cold. Make sure that there are no gaps at bends, valves or fittings, and that you use suitable insulation material– a licensed plumber or your local DIY store should be able to give you advice.
If you have a water tank, it should be fitted with an insulation jacket or alternatively, the top and sides of thetank can be wrapped with suitable insulation material. Don't place loft insulation under the tank, though, as this stops heat from the rooms below helping to keep the tank from freezing.
Protect
If you're going away, make sure you have someone who can check regularly for any problems. If your neighbours don't have a key for your property make sure they have contact details for someone who does, in case of an emergency. If your property is going to be vacant over the winter months, turn off your water supply and drain the system – a licensed plumber should beable to give you advice about this.Dripping water and cold draughts both increase the risk of pipes freezing – so have any drips or leaks repaired as soon as you discover them, and reduce draughts by fitting draught excluders to doors and windows.Even when your home is winter ready sometimes damage can happen, so make sure you have adequate building and contents insurance.