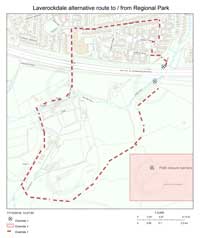 Due to scour remediation works at Bonaly Burn, planned to commence on the 10th December and to be completed by the 22nd December. The path under the City Bypass at Bonaly will be closed.
Part of the existing gabion baskets have rotated in the burn, creating a gap between them and the footpath.
It is planned to replace the existing, failed gabion baskets, with a vegetated Envirolok system.
For these works to be carried out safely, the footpath will have to be closed and diverted for the duration of the works. Please see attached diversion for your information, as consulted with Edinburgh City Council and the Ministry of Defence.
Click on the Picture to down load an alternative route map
Our public toilets, which are just 8 years old and needing very little maintenance, serve an elderly population as well as Bus drivers who stop at the nearby terminus should not be subject to Edinburgh Council's cutbacks. We will fight on to save them.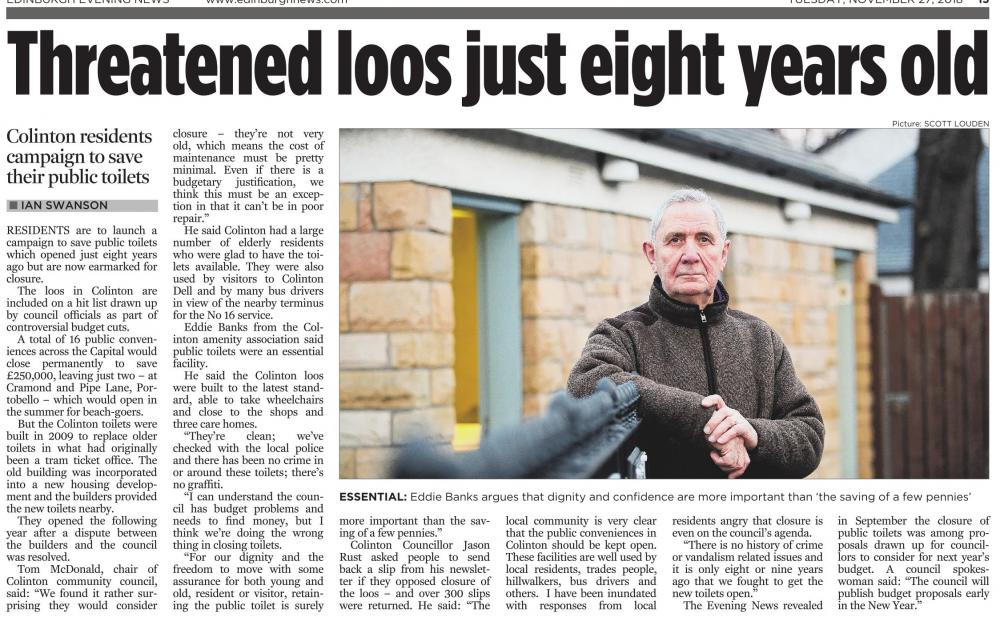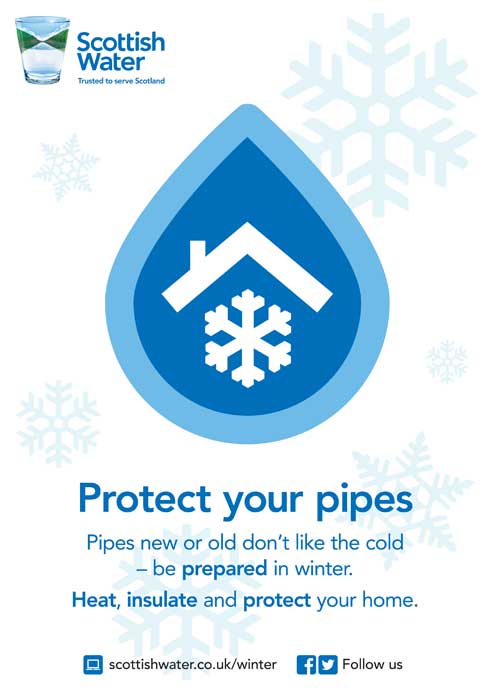 Follow our winter code. Heat, insulate and protect
Heat
Warmth offers the best protectionagainst frozen pipes, so when temperatures are low, leave your heating on a low setting, or set it to come on a couple of times a day.
Insulate
Pipes don't like the cold - whether they are outdoor or indoor, metal or plastic,new or old. Making sure pipes and watertanks are properly insulated is one of the simplest, and cheapest, things you can do to help protect your property from the cold. Make sure that there are no gaps at bends, valves or fittings, and that you use suitable insulation material– a licensed plumber or your local DIY store should be able to give you advice.
If you have a water tank, it should be fitted with an insulation jacket or alternatively, the top and sides of thetank can be wrapped with suitable insulation material. Don't place loft insulation under the tank, though, as this stops heat from the rooms below helping to keep the tank from freezing.
The South West Locality has been looking at a better structure for the local Environment Walkabouts. This is where local community bodies get together and look at what potential environmental improvements might be considered. The proposal will remove "service" issues from the discussions which will be held twice* a year and concentrate on reviewing areas in the community where money might be better spent making an area more attractive.
Colinton Community Council wishes to work with the various constituted bodies in Colinton as well as community members to examine what we can do to make Colinton a better place.
All suggestions will be considered, so please get in touch.
* It is possible that this may only occur once a year unless suggestions come forward on areas to improve.
An update on the latest arrangements for garden waste collection have kindly been passed on by our Ward Councillors.
The process is as follows.
The new service starts from Monday 8 October 2018.
Permits and calendars will be posted to residents the week beginning 24 September.
Residents who have not signed up but use any of our kerbside or box collection services will also be sent a letter with information about the next registration window and a new calendar as they may have a change to their bin collection days.
Tiphereth customers who have signed up will continue to have weekly garden waste collections. Tiphereth will provide these residents with a year's supply of tags to attach to their garden waste bags.
The last free collection of garden waste will be on Friday 5 October. Residents who have not signed up for the service should check their current calendars for their last collection before this date. For some residents their last garden waste collection may be as early as 17 September.
The next registration window opens at 9am, 1 October and closes at 12pm, 16 October.
Residents who have not signed up are encouraged to compost their waste or take it to one of our recycling centres.
They can also book a special uplift for their garden waste for £35 for up to 28 bags of waste.